Exploring Content Creation & Editing Tech Tools
Sep 25, 2023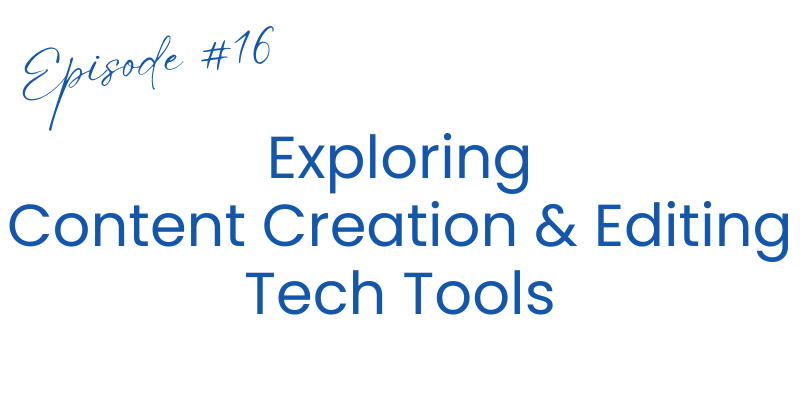 ---
👉 Episode Overview
Unlock the tech wizard in you! In this power-packed episode of "The Confident with Tech Podcast," your host Kylie Ross reveals her top picks for tech tools that can supercharge your content creation game. From graphic design to video editing to project management, we cover it all. Say goodbye to tech overwhelm and hello to a streamlined, efficient workflow!
How Canva's drag-and-drop features and Magic Writing can simplify your graphic design needs.
Descript's mind-blowing features for audio editing and why it's a must-have in your toolkit.
Camtasia and Snagit as your go-to options for video creation.
Why ClickUp could be your next favorite project management tool for content planning and creation.


Bulk Creation in Canva: Create multiple designs in a jiffy!
Descript's Studio Sound: Get studio-quality audio without the studio.
Camtasia's Easy-to-Use Templates: Make professional videos without the learning curve.
ClickUp's AI Writing: An AI assistant that helps you write better content.


Got a question or favourite tool to share? Reach out on social media or drop a comment on our website.

Look out for these next Episodes in this Tech Tools series:
* Exploring Social Media, Marketing & Analytics Tech Tools
* Exploring Email & Communication Tech Tools
* Exploring Websites & Hosting compared to All-in-One Platforms
* Exploring Finance & eCommerce Tech Tools
* Exploring File Storage & Backup Tech Tools
* Exploring Automations Tech Tools


Affiliate Disclaimer: this episodes notes may contain affiliate links for which we may receive compensation
Stay connected with news and updates!
Join our Tech Hub mailing list to receive the latest tech tips, episodes and updates.
We hate SPAM. We will never sell your information, for any reason.